From Student To First Seat Driver At PAM Transport - Robert's Review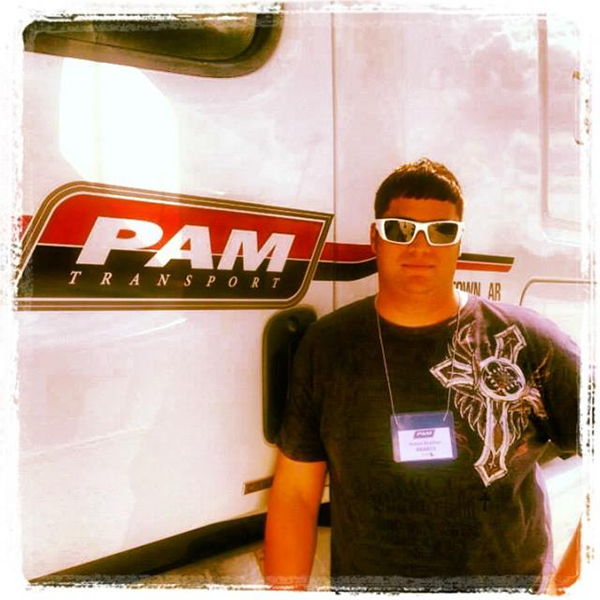 Well, here is my story. I am 23 years old. I've been around big trucks for a very long time. I decided that I wanted to get my CDL and hit the road. I found PAM Transport and got set up with Driver Solutions. I spoke with my rep from Driver Solutions for the first time on a Friday afternoon. The same weekend, I was packing my bags and drove to Missouri for truck driving school. I arrived Sunday and began school that Monday.
First week of class, I can't lie, was somewhat boring due to having paperwork and a couple tests and what not. I mean who really like to do paperwork and take tests. Mr. Perry who taught our class inside was an awesome instructor. He helped with whatever we needed promptly. He also told us every story he had about his experience with sleeting while driving. Lol (inside joke).
Once I got on the yard things were different. Each day for the 2nd & 3rd week, half the day was spent on the yard and half was out on the road. I had Mr. Joe Brown for my instructor. Now as I said before, I've been around 18-wheelers for the majority of my life. I could basically tell you whatever you want to know about them...... so I thought. Mr. Joe taught me more. I learned more from my instructor than I have over the years of being around big trucks almost daily. So I listened, payed attention and learned even more. I knew I would have issues with my backing maneuvers. And I was yet again wrong. Joe told me exactly what to do, when to do it, and how to do it. And guess what? I nailed every maneuver perfect each time. I got so good at it, that we even had competitions on the yard of who could do the maneuver better. (Yes I did win a few of them, and Rich the director whitnessed) lol. When your instructor teaches you how to do something better than them, that should tell you how good of an instructor they are.
Once we got on the road, it was a little different. My instructor knew I had a lot of experience with trucks. So he wanted to see what I could do. And surprisingly again, he taught me more than what I already knew, and showed me how to improve what I did know. These guys don't just teach you hot to drive, and how to back up. They teach you so much more than what they are required. One of the most important things is how to fix your mistakes. Anyone can back up a truck. But the hardest part is knowing how to correct a mistake when you make one. If you can back a truck up and be crooked and jackknifed beyond belief, and you can figure out how to fix it, then hats off to you because you are doing well and will make it farther than you think.
Now, to the rest of the staff. Ms. Diana, and Ms. Cindy in the office. Ms. Diana is amazing. She takes care of your paperwork and whatnot. Makes sure that when you leave there, you are 100% ready to go to your carrier and not have to sit behind a desk again doing more paperwork. She fixes everything. Not sure how she does it, but do not underestimate her lol. Ms. Cindy, oh dear lord. This lady, I PROMISE, can put a smile on your face everytime she comes in the room. Very outgoing, fun filled, smiley, love able, funny character. She is a trip. And she brings Popsicles and ice cream out on the yard on those hot sunny days. Major plus. And finally the director of the school, Rich. Very awesome guy to meet. He is very straight forward. He and his instructors will do what it takes to make sure you leave there with a CDL. The school is ran perfectly. Very efficient and a great environment to be in. It is not by any means a boring school. Me. Rich is very blessed to have the crew of instructors and office staff that he has.
I would like to thank you, Mr. Rich and your entire staff for everything. Thanks to you guys and gals, I'm now a first seat driver for PAM Transport. I will continue to recommend this truck driving school to everyone I come in contact with. You guys are amazing and should defiantly be rewarded for it. Thank you again. And I will be stopping by soon!

---

Hey Robert,
Thanks for sending us this review of the Driver Solutions program and congratulations on becoming an official first seat driver at PAM Transport! Some excellent points were brought up during your review and we'd like to touch on one in particular...
Ability To Come In Ready To Learn
Students that come through truck driving school have all different types of backgrounds. Some have a lot of experience around big trucks (like yourself) and others have never even driven a stick shift. However, ALL of the successful drivers who complete training and get a CDL have one thing in common - they came to school ready to learn!
No matter how much or little a diver may think they know - there's always more to learn every single day. A truck driver of over 20 years put it best when he told us, "the day I think I know it all is the day I need to stop driving." Robert - while you came in with a great deal of experience you also had an open mind that allowed and took advantage of all the learning opportunities at training.
We wish you the best of luck at PAM Transport!
- The Driver Solutions Team
How To Get Truck Driving Jobs At PAM Transport
A company sponsored CDL training program like the one Driver Solutions offers will help truck drivers get the experience needed to find a trucking job with no upfront tuition cost. Reputable truck driving companies such as PAM Transport are currently hiring drivers with no experience and CDL training is provided. This is the best way for new drivers to get started, gain some valuable experience driving OTR and open doors to a promising trucking career.
Complete the no obligation application online to schedule a time to speak with a Driver Agent about truck driving job opportunities that are currently available.